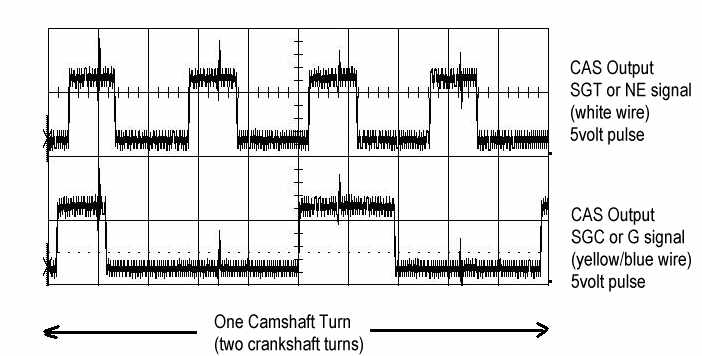 Here are the pulses taken with a digital storage oscillope with motor idling. The oscilloscope settings were 5 volts and 5 msec. The above trace represents one revolution of the CAS, which is two revolutions of the motor. You can see the two unequal pulses from the SGC. The engine computer uses the unequal length of SGC to tell when the cylinder #1 of the motor is at top dead center (TDC) This happenswhen the #1 piston is at the top of the compression stroke. The SGT pulses are all the same. The computer knows it is time to fire a spark plug when an SGT pulse occurs.
By the way, I believe the computer looks for the longer pukse on the SGC signal to tell when the engine is at TDC.
The miata engine computer will return error codes if it detects a problem with the CAS signals.
| | | |
| --- | --- | --- |
| 1.8 miata (94-95) | 1.6 miata (90-93) | Color of Wire on connector |
| Code 03 (no SGT signal) | Code 02 (no NE signal) | white |
| Code 04 (no SGC signal) | Code 03 (no G signal) | yellow/blue |
---
In my opinion, the best way to test the CAS is to hook an engine scope up to a running engine and look at the pulses. If the engine is running, the CAS is working. If the SGT pulse were missing, the engine will not start or run. I have disconnected the SGT signal and verified this. If the SGC signal were missing. the engine would not run either.
By the way, my empirical results are when I disconnected the SGT signal, I got a code 04, not an 03. And when I completely disconnected the CAS, I only got an 04. Data taken 10-31-2002
One comment. It is not unusual for one of the wires in the CAS plug to break. I have seen this happen on a friends car where the yellow/blue wire broke. The car did not start of course, nut when checking for spark, one coil did fire. I can't recall which one.